Need help completing your 2011-2012 FAFSA?
Questions?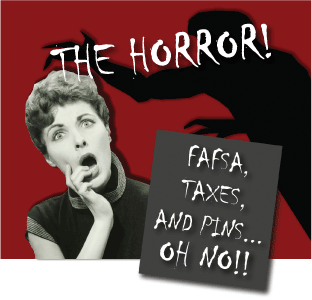 FAFSA, Taxes and PINs... Oh no!!
It's not as frightening as it seems!
The financial aid process begins with the FAFSA (Free Application for Federal Student Aid), which becomes available January 1, 2011.
Do you need help completing your 2011 - 2012 FAFSA? The Office of Student Financial Services will host FAFSA completion sessions in February and March. Current students will have the opportunity to complete the application with financial aid counselors present.
All sessions will be held in MEZ 2.120.
February Schedule:
2/17 (Thursday) | 3:00pm-5:00pm
2/23 (Wednesday) | 4:00pm-6:00pm
March Schedule:
3/1 (Tuesday) | 4:00pm-6:00pm
3/7 (Monday) | 3:00pm-5:00pm
3/24 (Thursday) | 11:00am-1:00pm
3/31 (Thursday) |3:00pm-6:00pm
Meanwhile, you can find out more about the FAFSA on our
Applying for Financial Aid
page. We also recommend you begin gathering the documents you will need to complete your FAFSA:
Your Social security number.
Your driver's license (if any).
Your alien registration or permanent resident card (if you are not a U.S. citizen).
Your PIN number.

If you forgot it, you can retrieve it at: www.pin.ed.gov
If you are a dependant student, you should also have one for one parent.

Your 2010 W-2 forms and other records of money earned.
Your (and your spouse's, if you are married) 2010 Federal Income Tax Return.
Your Parentsī 2010 Federal Income Tax Return (if you are a dependent student).
Your 2010 untaxed income records.

Veterans benefits records.
Child support received.
Worker's compensation.

Your current bank statements.
Your current business and investment mortgage information, business and farm records, stock, bond and other investment records.
March 31, 2011,
is the priority deadline for submitting your FAFSA to be considered for maximum grant eligibility. International Texas Residents can complete a paper FAFSA during the FAFSA completion sessions and submit the FAFSA directly to the Office of Student Financial Services.