Beware of Scams! Applying for Financial Aid is Free!
Questions?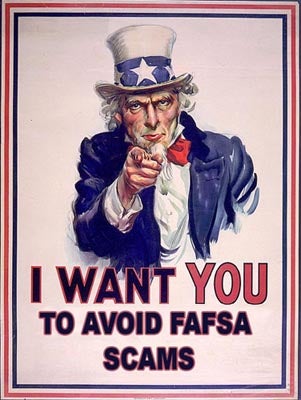 First let's get this out of the way:
The University of Texas at Austin does not endorse or work with any scholarship or financial aid search services that charge a fee of any kind. If a service says UT Austin endorses or works with it, please report it to UT Austin's Office of Student Financial Services (OSFS) immediately by calling (512) 475-6282.
Now let's go down the list.
| | |
| --- | --- |
| Applying for financial aid using the FAFSA? | FREE. |
| Applying for UT Austin Freshman Scholarships? | FREE. |
| Applying for UT Austin Continuing and Transfer Scholarships? | FREE. |
| TexasScholarships.org? | FREE. |
| Applying for nearly every private scholarship out there? | FREE. |
Notice a trend?
Chances are, if you're paying a scholarship or financial aid service, you're going to be forking over money for information that you can get for free.
See the following for scholarship and financial aid applications available at no charge:
In addition, there are many scholarships available through community organizations, unions, alumni associations, and other groups intending to benefit particular populations. The best source of free information about these scholarships is your high school guidance office.