Need help completing your 2012-2013 FAFSA?
Questions?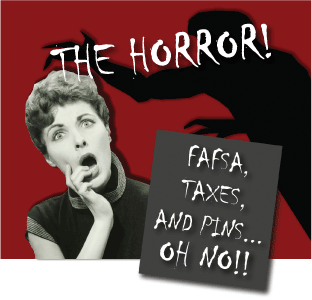 FAFSA, Taxes and PINs... Oh no!!
It's not as frightening as it seems!
FAFSA Priority Deadline is March 15th!
Join us at a FAFSA completion session.
Financial aid counselors will be available on a walk-in basis to help you complete your online FAFSA.
All sessions will be held in MEZ 2.120.
February Schedule:
2/2 (Thursday) | 1:00pm - 3:00pm
2/8 (Wednesday) | 9:00am - 11:00am
2/14 (Tuesday) | 11:00am - 1:00pm
2/20 (Monday) | 4:00pm - 6:00pm
2/29 (Wednesday) | 1:00pm - 3:00pm
March Schedule:
3/6 (Tuesday) | 10:00am - 12:00pm
3/15 (Thursday) | 1:00pm - 4:00pm
Bring the following documents, if available, to assist with your FAFSA completion:
Your Social security number.
Your driver's license (if any).
Your alien registration or permanent resident card (if you are not a U.S. citizen).
Your PIN number.

If you forgot it, you can retrieve it at: www.pin.ed.gov
If you are a dependant student, you should also have one for one parent.

Your 2011 W-2 forms and other records of money earned.
Your (and your spouse's, if you are married) 2011 Federal Income Tax Return.
Your Parentsī 2011 Federal Income Tax Return (if you are a dependent student).
Your 2011 untaxed income records.

Veterans benefits records.
Child support received.
Worker's compensation.

Your current bank statements.
Your current business and investment mortgage information, business and farm records, stock, bond and other investment records.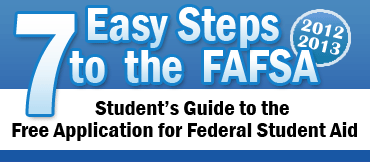 – The "Seven Easy Steps to the FAFSA" tutorial was created by the University of California Santa Barbara and is used with their permission.